When you think of the quintessential piece of furniture to add to a man cave, the pool table is the first that comes to mind.
Pool tables are not just a piece of furniture though, but also provide somewhere to relax, entertain, compete, and socialize, and they're a must-have for anyone looking to add some fun to their home.
Buying a pool table isn't so easy to do, and it can be a notoriously expensive purchase.
Because of this, you want to make sure you're choosing the best pool table possible and one with the features and price range that will suit exactly what you're looking for.
This buying guide can show you how to do just that, and we've rounded up the top-rated pool tables to suit all of your different requirements and budgets.
With our help, you'll weed out the good pool tables from the bad and have just a handful of the top performers to choose from, so there's no need to worry about this potentially big purchase going awry.
Owning a pool table is something most of us dream about and you only want to choose from quality pool tables when you finally take the leap to get one for yourself.
This buying guide will make that easy and answer some common questions people usually have about these fun pieces of furniture, so you can rest assured you'll be making a fully informed decision when you get your very own pool table.
Our Top Choices for the Best Pool Table on the Market
Without expert help, choosing the best pool tables for the home can be complicated.
That's why we've rounded up our recommendations for the best of the best, so you can choose from those that have a great reputation and many happy customers who can vouch for their greatness.
Our Pick – Top 3 Pool Tables
In case you're in a hurry, here are my top three recommendations for the best pool tables.
Still confused about which pool tables is best for you?
Let me help by providing detailed reviews on the best pool tables that I found in the market (and the ones you can buy online).
These reviews will definitely help you gain awareness and understanding of the best features, pros, and cons of each pool table.
Let's get started!
Best Pool Tables Reviewed
Below is the table that shows all the pool tables covered in this review.
Now let's have a look at the detailed reviews of each of the pool table covered in this article.
Sale
Our number one choice for the best pool table to buy for home is the Mizerak Dynasty Pool Table.
This is a space-saving design which means 6' in length, giving you heaps of room for proper play without taking up the entire room.
It's made of a bamboo laminate exterior and with a green nylon cloth clover just like a traditional pool table should have, and it's priced well compared to some others you might find in this condition.
Customers loved how easy this table was to set up and there was no need for professional help.
It's sturdy and stable, and everything from the cover to the construction of the legs and surface is of great quality.
Because of its size, it's perfect for homes with smaller spaces to fit into, but even if you have a lot of room there's still ample room to enjoy a game with all of your friends.
Although the table itself was great, customers found that the accessories included weren't so much.
With this set, you'll get cues, balls, a rack, and some other small bits and pieces, and if you want a truly professional table you'll have to pay to upgrade these because their current quality is pretty low.
This table features automatic ball return, measures 78 x 44 x 32", and has a double-sealed MDF play bed.
You'll get a consistent roll every time and find it sturdy and stable for an authentic gaming experience.
Mizerak has designed this to be a space-saving pool table and that's exactly what it is, so if you've been looking for one a little smaller than most that can still deliver this is it.
Amazon sells this pool table for around $600 including free shipping straight to your door, which is the best value we could find online.
The Mizerak Dynasty Pool Table comes with a one-year limited warranty and previous buyers have found their customer service to be exceptional, which is always a bonus.
If you want a quality pool table without too much pizazz, the Mizerak Dynasty is our number one pick.
Material: Bamboo laminate
Size: 6.5′
Dimensions: 78 x 44 x 32"
Cover Material: Nylon cloth
Automatic Ball Return: Yes
MD Sports BLL090_147M Titan Pool Table, Black, 7.5'
LUXURY PRO INDOOR TABLE - The MD Sports Titan Pool Table at 7.5 feet long...
COMPLETE ACCESSORY KIT - Our table comes with all the necessary parts and...
HEAVY DUTY CONSTRUCTION - Playfield is made of 18 mm thick laminate felt,...
When you care just as much about how good your pool table looks as you do its quality, you need something sleek and professional like the MD Sports Titan Pool Table.
This standard-sized 7.5' pool table is made with steel legs for a modern take on the traditional style and it comes with oversized 6" leg levelers that allow you your new table to the exact perfect height and balance.
The durability of the MD Sports Titan Pool Table amazed customers and it felt even more high quality than professional tables they'd played at before.
With a durable laminate felt on the table and quality in every single accessory that came with it, you can see what this one costs more than many of the home pool tables on the market.
It looks cool and performs even better, so if you have the money to spare you won't be disappointed.
For such an expensive table, customers were disappointed to find the bumpers didn't live up to their expectations.
According to MD Sports, they're genuine K-66 wood bumpers but it didn't seem to feel like it.
Although they weren't the poorest quality they could have been better, and when you're spending this much to get the best pool table for home use it's not really a feature you want to be lacking.
Other notable features of the MD Sports Dynasty include the authentic drop pockets and included accessories, like balls, table brush, and two ball sticks, just to name a few.
The felt is 18mm thick so it feels like a professional table and the entire design is in a silver and black theme so it can add some much-needed pizazz to your home.
Weighing around 185lbs it's pretty heavy but to set it up you screw the legs on individually so it does make the job easier.
If you want to add a bit of personality to your man cave and prefer a modern looking pool table, you can get the MD Sports Titan from Amazon for around $1,100.
This table only comes with a 90-day limited warranty and it doesn't apply to all parts, so you really need to be sure when you purchase it.
For a professional quality table that looks as good as it plays, the MD Sports Titan Pool Table won't let you down.
Material: Steel
Size: 7.5′
Dimensions: 89 x 50 x 31"
Cover Material: Laminate felt
Automatic Ball Return: No
MD Sports Crestmont 8 ft. Billiard Pool Table
Traditional square leg design with classic drop pockets for an Authentic...
35 percent wool blended with polyester felt, for smooth ball roll
Parlor style drop ball pockets and wood grain design top rails
Some people want nothing less than an authentic-looking and feeling pool table, and if this sounds like your taste the MD Sports Crestmont pool table is a great choice.
This classy pool table with an extra cost. Compared to other tables in this review, this one is a slightly more expensive pool table.
Made with wood grain and a durable wool blended polyester felt on the table surface, this is the real deal, and measuring at 8ft long it's the perfect size for even professional pool players to compete on.
The best thing about this pool table was the polished wood grain and polyester felt surface, both working together to make an authentic-looking billiards table.
It's 8ft long which is pretty serious in size and perfect for people who want nothing less than the real deal.
You can also adjust the legs with levelers which means no risk of a wobbly table disrupting your entire game.
Expect to spend some time setting this pool table up and possibly even calling in the experts to help. It's sizeable at around 284lbs so you won't be carrying it anywhere by yourself.
Some customers were unhappy about the length of the setup and claim it took them an entire day with a people helping just to get it together correctly.
Keep this in mind if you live alone or can't enlist anyone for assistance.
Other cool features of this table include the drop pockets and top rails with intricate wood grain designs.
You'll also get all of the accessories included in the price like a triangle and set of balls so there's nothing more to buy.
This 8ft table is big and bulky and definitely not a lightweight pool table, so make sure you have room for it to fit.
Amazon has a great price on the MD Sports Crestmont and you can get one for just under $1,000.
For a quality wood table, it's a bargain and it also comes with a 90-day limited warranty on most parts, so make sure you take care of it if you want it to last.
If you prefer the authentic large, wooden tables you'll love the MD Sports Crestmont Pool Table, but be prepared to spend some time setting it up.
Material: Wood
Size: 8′
Dimensions: 95.5 x 53.5 x 31"
Cover Material: Wool blended polyester felt
Automatic Ball Return: No
If you want the wooden look of a pool table without the high cost, you'll appreciate this more budget-friendly option from Triumph.
Their Santa Fe Billiards Table is a 7.5' long construction complete with wooden legs, and it has the authentic drop pocks and intricate style that you'd expect from a vintage pool table.
The best feature about this table, according to reviews, was the design that features clawed feet and drops pockets, a green felt cover and beautiful polished wood on the edges and legs.
If you want some wow factor from your pool table and a piece of furniture that will add a dramatic statement to any room, this is the way to go.
The Santa Fe table from Triumph isn't as heavy as other wood tables the same size which could indicate a lesser quality wood being used.
At around 190lbs when it's fully assembled, some customers were shocked at how lightweight it felt for something that looked so sturdy.
Other features worth discussing include the accessories that come with it, giving you everything you need to play like a billiard ball set, pool cues, and triangle.
It measures 89' x 50' so you should be able to fit it comfortably in any room you choose, and because it's lighter than most it won't be such a hassle to move it around.
Priced very reasonably at around $750 brand new from Amazon, with free shipping included, you'll be hard-pressed finding another like it in this budget range.
It comes with a one year manufacturer's warranty and excellent customer service according to the reviews, so there's always someone there to help.
The Triumph Santa Fe Billiard Table looks like the real deal but feels even lighter, and is a great option for those who want to save some money but keep the classic billiards style.
Material: Wood
Size: 7.5′
Dimensions: 89 x 50 x 31″
Cover Material: Nylon felt
Automatic Ball Return: No
For lovers of the classical pool tables who want to recreate that style in their home, the Fat Cat Reno Pool Table will definitely be ideal.
This pool table is made with maple wood veneer and it looks like a vintage piece, measuring 7.5' feet long to meet standard regulation size.
The best feature about this pool table is the playing surface as it's been made with Accuslate and covered with a burgundy-colored wool cloth.
The Accuslate has a seven-year warranty just on this part alone which proves how good the quality is and you can feel as soon as you start playing that it's been made with extra care.
There are some downsides though, with some customers finding faults in the wood surface that made it look less than perfect.
It's pretty heavy also and you'll need a few people to lift it, despite this never being mentioned by Fat Cat in the description.
The Fat Cat Reno Pool Table comes with K66 rubber bumpers, 6" diamond inlay rails, and a cherry wood finish so it looks amazing.
You'll also get two hardwood cues, a set of balls, a rail brush, and a triangle so there's no need to purchase anything else.
Aside from the seven-year warranty for the Accuslate playing surface, the table itself doesn't appear to have any warranty coverage.
Priced at around $1,000 thanks to a current promotion, Amazon is the best place to buy this table.
The stylish and vintage looking Fat Cat Reno Pool Table will definitely add some old world charm to your home, but be prepared to enlist the help of others to lift it.
Material: Maple Wood
Size: 7.5′
Dimensions: 89 x 50.5 x 31″
Cover Material: Wood Cloth
Automatic Ball Return: No
Also read: The Fat Cat Trueshot 6' Pool Table Review
FAQs About Pool Tables (or Billiard Tables)
Billiard and pool tables are great to own but there's a bit to learn about them before you invest in one.
We've answered some questions that new pool table owners frequently have about them so you can be fully educated before you make your purchase.
What Is A Standard Size Pool Table?
A professional pool table usually measures 9 feet by 4.5 feet, but there are varying sizes of 6, 7, and 8 feet, and everything in between.
A general rule is that the width of a pool table must be half the size of its length in order to meet standards.
How Much Room Is Required For A Pool Table?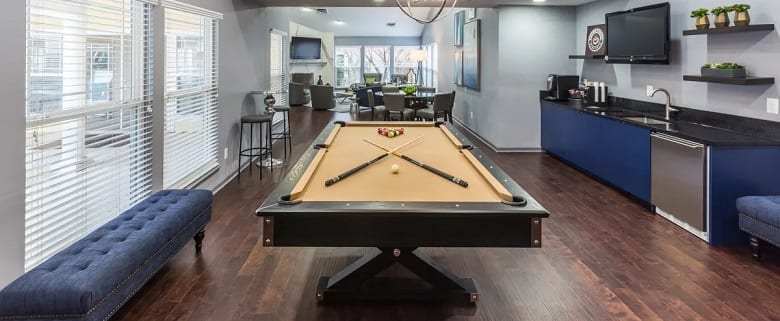 Depending on the size of the pool table, you'll need a varying amount of space.
Players need to have enough space to shoot their cue at any point from the table so make sure there are at least a few feet of room around it.
Is There A Difference Between A Pool Table And A Billiard Table?
Although sometimes the terms are used interchangeably there are a few key differences between billiards and pool tables.
A billiards table is covered in wool and has four pockets, whereas a pool table may be covered in felt and has six pockets, and both come in varying sizes and dimensions.
Why Are Pool Tables So Expensive?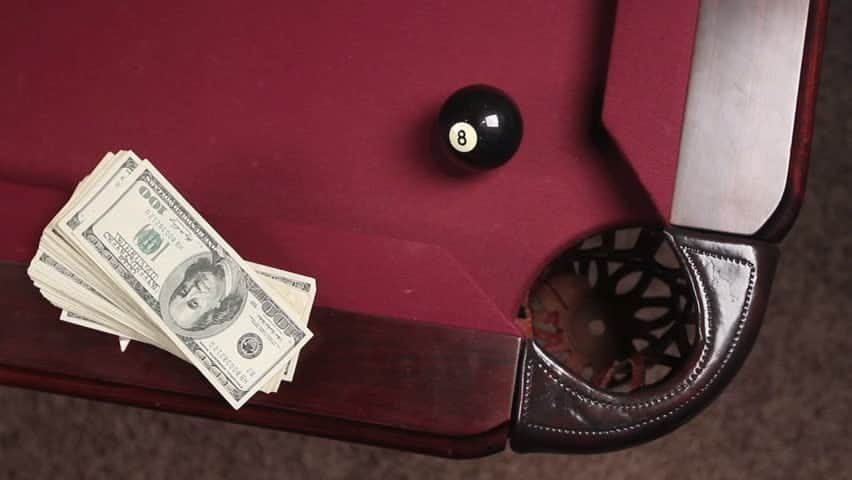 A quality pool table usually costs around $1,000 and this is due to the materials used and its weight.
Many pool tables are made with hardwoods and sometimes slate underneath the playing surface, which means a higher cost but better quality.
The Quintessential Man Cave Centerpiece
With a pool table in your man cave or any other room of your house, you'll be adding an instant wow factor that's also practical and fun to play.
Depending on your style you're certain to find the best pool table to suit and one that's within your budget as well.
A pool table brings people together, adds a sense of style to a room, and can be enjoyed for years to come, so it's an important addition to your man cave that won't be regretted.
Other articles you may like: