In the game of pool, the cue stick is the most important thing you rely on.
A good pool cue stick should be comfortable, durable, precise, and stylish, and if you're serious about having a good game you'll know just how essential it is to get the perfect one.
Shopping for the best pool cues can be confusing if you're not sure where to start, and a quick look at what's available will only justify this feeling.
There are so many different types, shapes, materials, lengths, and weights to choose from so narrowing them down to the best on the market to suit your playing style can seem like an impossible task.
This buying guide was designed with the goal of helping you find a pool cue that meets all of your requirements.
We've found the best-rated pool cues to meet all specifications and budgets and can show you exactly what makes them winners. ,
With our help, you'll have the perfect tool to play your best game of pool ever, no matter your skill level or previous experience.
Our Top 3 Recommendations for the Best Pool Cues
A pool cue will have a major impact on your performance, and it's the most important thing that a pool player can own.
We've searched far and wide through countless pool cue reviews to come up with the best on the market so you can narrow down your choices to those that are truly worth it, and be guaranteed the perfect selection.
In case you're in a hurry, here are my top three recommendations for the best pool cues.
Still confused about which pool cues are best for you?
Let me help by providing detailed reviews on the best pool cues that I found in the market (and the ones you can buy online).
These reviews will definitely help you gain awareness and understanding of the best features, pros, and cons of each pool cue.
Let's get started!
Best Pool Cues Reviewed
Below is the table that shows all the pool cues covered in this review.
Now let's have a look at the detailed reviews of each of the pool cue covered in this article.
The best pool sticks for those looking for quality, versatility, and a complete set would have to be the Aska Pool Cues.
With 5 different weights of pool cues in each set, you'll have the right one for every type of play and player, and each one has been carefully crafted with Canadian maple for the highest of quality.
Players were impressed at how well these handled, especially when it came to control and spin. You'll get just as much control as a pool cue twice its price and no matter your skill level you'll find it a breeze to work with
Having something that handles this well is one of the best features you can hope for and according to the pool cues review, that's exactly what it offers.
On the downside though, some reviewers mentioned that the tip could be a little stronger if you're planning on using it for breaking
Depending on how often you play pool, you might want a more durable stick to break with and then keep these for regular shots or for guests who come to use your table.
Within this set are five cues weighing 18, 19, 19, 20, and 21oz respectively, and all of them are two-piece sticks.
The shaft measures 29′ and the entire length is standard sized at 58′, and each one has its own color and design so you can easily tell them apart.
They feature a black nylon wrap and stainless steel joint, so every single part of their design has been carefully thought out and chosen.
Having a set of pool sticks like this for your home pool table will be the cherry on top of a good setup, and if you want to invest in the Aska Pool Cues you can get them from Amazon for around $140 a set.
There's no word on a warranty offered by the manufacturer but their reputation for quality should give you peace of mind.
The Aska 5 Set of Pool Cues has something for every player and can only improve your game for the better, making them our top choice.
Type: 2-piece
Size: 58″
Weight: 18, 19, 20, 21oz
Material: Canadian Maple
Number of cues in set: 5
When you want to combine your passion for pool and NFL, the only way to do it is with a licensed pool cue like the Imperial Eliminator.
These are high quality 57′ pool cues made of maple and fiberglass, and when you order yours you can choose your favorite NFL team as the design.
These cues are custom made and although more expensive, they're worth it if you're a true sports fan.
You can feel instantly that this is a well-made cue and it's thanks to the construction of fiberglass that's been wrapped over hardened maple.
The cue itself has been hand cut from Northern Michigan hard rock maple which makes it extra strong and gives the pool cue a smooth feeling that really helps you with precision.
There were some minor negatives to the Eliminator Pool Cue, with one being the lightness of the pool cue at the front.
A few reviewers made mention of this and said it felt a little off compared to other quality sticks they've used, and ultimately it could end up throwing off your balance.
You'll need to practice to get used to the new feeling if you do decide to get this cue.
The Eliminator Pool Cue comes in four different sizes of 18, 19, 20, and 21oz so you can get the perfect one and it disassembles into two pieces for easy portability.
Using nylon/fiber threaded ferrules and Le Professional tips it's professionally made from top to bottom and will last you for many years of play.
The Imperial Eliminator Pool Cue can be purchased from Amazon for around $90 so it's pretty expensive and from there you'll be able to choose what team you want on yours.
Imperial offers a 90-day warranty on the cue which isn't that great for its price, so you'll want to keep this in mind
However, if the NFL and pool are your two biggest passions, there's no other choice out there than the Imperial Eliminator Pool Cue.
Type: 2-piece
Size: 57′
Weight: 18, 19, 20 oz
Material: Fiberglass and Maple
Number of cues in set: 1
A serious pool player will only ever settle for a serious pool cue, and if this sounds like you, you'll want to check out what the Viper Revolution Spider has to offer.
This is a premium quality cue made of hardened Canadian maple and coming in a range of weights from 18oz to 21oz.
You can customize your cue to meet your playing style and requirements, so there's no need to settle for something generic.
What customers loved most about the Viper Revolution Spider is the design, with a black and white rubberized wrap featuring spider webs that make it a stand out.
Using silicon infused felt wrap it's super-soft to play with and gives you a great grip.
The construction is solid and even as the two pieces join together you won't notice any difference because they merge together so perfectly.
However, there are some negatives worth nothing and they mainly have to do with the customer service side of things.
A few people mentioned getting the wrong cue weight delivered or finding that it was a little offer, so be sure to weigh yours when it arrives and send it back if it's not exactly as you ordered.
The scuffer also seems cheaply made compared to the rest of the stick so it's something they should consider upgrading in their next model.
Other features included with this stick are 13mm Pro Leather Tip and the pro taper used to make every stroke feel comfortable.
There are nine coats of varnish that cover the entire thing and stainless steel joints, so it looks just as good as it feels.
Viper offers a massive three-year warranty on this pool cue and for a brand known for its quality, this isn't surprising.
The Viper Revolution Spider Pool Cue is available for a great price on Amazon, currently retailing for between $100 – $110 depending on which size you choose.
This is a professional quality pool cue with a price tag to match but for those who are serious about pool and want to know who makes the best pool cue, the money will be no object.
Type: 2-piece
Size: 58′
Weight: 18, 19, 20, 21 oz
Material: Canadian maple
Number of cues in set: 1
If you've recently treated yourself to a pool table at home you'll want a set of pool cues that friends and family can use.
The Billiard Depot Set of 4 Pool Cues is our top choice for the best pool cues for the money because they have everything you need to play without being too expensive or over the top with features.
These pool cues look as though they cost a lot more than they do, and they're incredibly straight with professional 13mm leather cue tips on each one.
Customers were impressed by their quality considering the price so if you want to save some money but still want to wow your friends with your new set of cues they'll do the job.
A few downsides to these pool cues were that the weight seemed a little off and unbalanced.
Some customers mentioned getting pool cues with different designs on the butt than what was advertised, so if you're big into the appearance and want something with these specific colors and styles you might want to prepare for disappointment.
There are four pool cues in each set, all with different weights between 18oz and 21oz and a length of 58′
They feature a hardwood shaft and 5/16×18 joint and are comfortable to the touch. As 2-piece cues, you can take them apart for portability and they screw back together easily, thanks to the stainless steel joints.
These are a much cheaper alternative for those who don't want to settle for something inferior, and Amazon has them listed for around $65 for the entire set.
Because of their price, there's no warranty on offer, which is to be expected, but the Billiard Depot Set of 4 Pool Cues still has a lot to offer the budget-friendly shopper.
Type: 2-piece
Size: 58′
Weight: 18, 19, 20, 21 oz
Material: Hardwood
Number of cues in set: 4
Our next pick for the best budget-friendly pool cues comes from Billiard Depot again, this time with their set of 6 pool cues.
These are 2-piece hardwood pool cues that don't offer anything fancy but get the job done, and they're ideal for a spare set to keep at the table.
Each cue weighs between 18-21oz and measures 57′ long, so they're a little shorter than the standard size.
The best thing about these, besides their affordable price tag, is the tips.
Customers mentioned how high quality the 13mm glue on leather tips was and how much they helped to get control of the ball.
Just because these are cheaper it doesn't mean they have to be poor quality and it's clear that the Billiard Depot set is still good enough to enjoy.
On the downside, they're pretty no-frills so don't go expecting too much.
As a one-piece four-prong cue, they don't travel well either so you can't take them anywhere without carrying a lot of bulk.
These are only ideal for keeping at home and if you want something portable, you'll need to spend a little more to get a two-piece set instead.
There are plenty of noteworthy features to talk about though, including a great variety of weights
You'll get an 18oz, 2 x 19oz, 2 x 20oz, and a 21oz so there are options for every player.
They're made with high-density ferrule and a hardwood construction from the tip to the butt that adds smoothness to the overall feel.
These are affordable cues that would suit a home pool table set up and they're reasonably priced for around $70 for the entire set of six.
Billiard Depot offers no warranty on these but they should last many years for casual players who come and hang out at your house, but for those serious about the pool you'll probably want to give yourself an upgrade to something better.
Type: 1-piece
Size: 58′
Weight: 18, 19, 20, 21 oz
Material: Hardwood
Number of cues in set: 6
Common Questions About Pool Cues
Pool cues might look simple on the outside but there's a lot to learn about them.
These are the answers to some commonly asked questions about pool sticks to help you understand them and make a more informed purchase when it comes time to get your own.
What Is A Good Weight For A Pool Cue?
A pool cue's weight should be chosen depending on the player's abilities.
Standard pool cues range in size from 18oz to 21oz with variations, but they could vary outside of this range still.
Some pool cues offer a variable weight system that can be adjusted by the player as needed.
How Long Should My Pool Cue Be?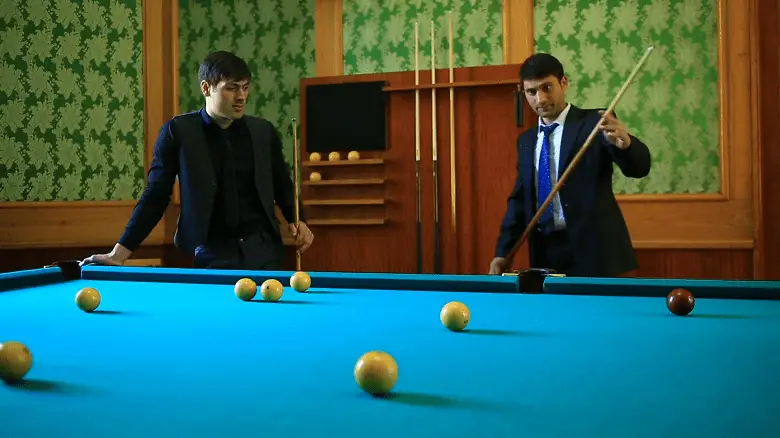 Standard length pool cues are around 57′ for a one-piece and 58′ for a two-piece
Depending on your height and abilities, you should choose a pool cue to suit you specifically.
Taller players may need a cue up to 61′ and shorter players may need something as short as 48′.
What Is The Best Tip For A Break Cue?
A break cue needs to be strong enough to do the job, so choose a material that's durable and able to transfer energy.
Resin is often considered the best tip for a break cue because of these qualities and leather is better suited for other shots.
What's The Difference In Pool Cue Tips?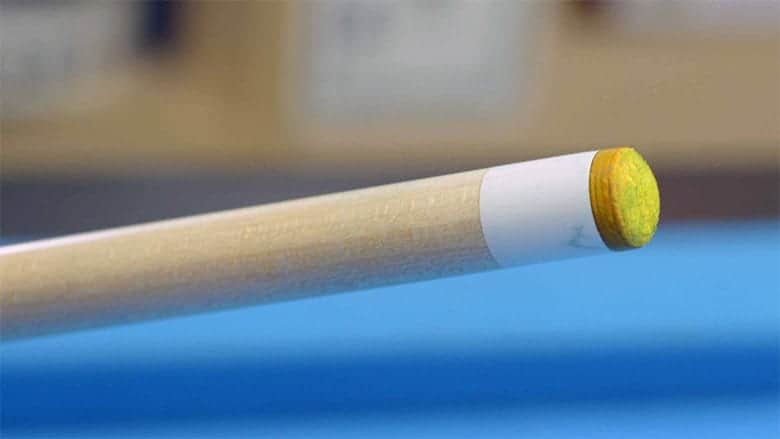 Pool cue tips come in varying sizes and materials depending on their purpose with some made for hard breaks and others for subtle shots.
They can be soft, medium or hard, and are made from materials like phenolic resin or leather.
Their sizes are measured in millimeters and usually range between 10-14mm in size.
The Right Cue for the Perfect Game
Every good pool player knows how important their pool cue is, and it's why we're usually happy to pay quite a lot to get it.
Depending on your style of play, who you're purchasing the cue for, and how often you enjoy a game of pool, the perfect pool cue will look different to everyone.
These are just some of the top finds we uncovered in pool cues with something to suit every type of player and every type of game.
As the most important accessory you'll have at the table, you want to make sure you're making the right decision, and any of these recommendations we've listed will have everything a pool player needs to be happy.
Other articles you may also like: